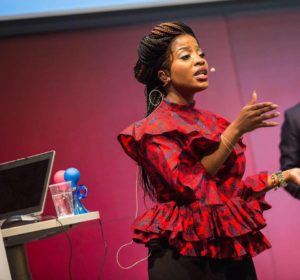 Speaking and Performing Profile
Speaking and performing is an is an extension and expression of who I am. The stage has always felt like home; a space where I can share the most honest, powerful and vulnerable truths of my individuality. Speaking and performing challenges me to express my most authentic voice, as I share a particular moment in time with my audience. In any capacity, whether be it through spoken word or motivation speaking or my participating in a panel or leading a panel, or hosting a talk show, or serving an an MC, it always an honor to share my passions, energy and voice. I am an enthusiastic and passionate speaker, who is drawn to intellectually curious and creative audiences who wish to better themselves so that they can more effectively impact their communities and world.
On numerous occasions over the last couple of years, I have been blessed and humbled with the opportunity to speak at various functions including conferences hosted by both the public and private sectors, international summits featuring high level panelists, universities, churches, festivals, rallies and countless other cultural and social events. Both as a motivational speaker and spoken word artist, I have traveled to speak and perform in various countries around the world including the United States, Switzerland, the United Kingdom, Nigeria, Austria, Rwanda, France and Ethiopia.
My diverse background, many years of experience and relentless passion for people and for change, emboldens me to confidently speak on various subjects and topics. Driven by my desire to see the world be a more inclusive and unduly just place, I speak on development, gender, youth, education, activism, consciousness raising and women's rights. Driven my desire to see us as people invariably embody excellence in our calling, I speak on purpose, leadership, God and faith, the power of mindfulness and efficiency maximization. Driven by my belief in the power of creativity, and my need for creative expression, I perform spoken word on a range of different subjects.
My goal as a speaker and a performer is to build a connection with my audience, as we share this unique space in time. My hope is that this connection I form with my audience, plus our exchange, will leave them feeling inspired, motivated, informed, and empowered for change in their lives and in their communities.
For more information on how you can book me to come and speak at your event, click here or you can email me at unravelingthemind@gmail.com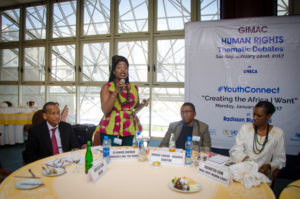 Featured Talks
Speaker, "Gender Equality and Women's Entrepreneurship," University of Lausanne, June 8, 2017, Lausanne, Switzerland
Keynote Speaker, "Why My and Our Science Matters," March for Science Geneva, April 22, 2017, Geneva, Switzerland
Speaker, "Equality Without Conformity for International Women's Day," Office Of The United Nations High Commissioner For Human Rights (OHCHR), March 8, 2017, Geneva, Switzerland
Speaker, "Youth Perspective on Harnessing the Demographic Dividend," African Union Pre-Summit, Sunday, January 22, 2017, Addis Ababa, Ethiopia
Panelist, "Unmasking the Irony Behind Neoliberal Feminist Entrepreneurship," Swiss Political Science Association, Thursday, January 12, 2017, St. Gallen, Switzerland
Trainer and Speaker, "Power of Mindfulness: Developing Conscious Leadership," Council of Europe, Thursday, December 15, 2016, Strasbourg, France
Keynote Speaker, "Change-makers, it's all about YOU: your self motivation, inspiration & leadership," European Youth Award, Thursday, December 1, 2016, Graz, Austria
Moderator, "Distinguished Panel on Youth and Economic Development in Africa," IHEID Afrique, Wednesday, May 4, 2016, Geneva, Switzerland
Speaker/Performer, "HIV, words and sounds," UNAIDS, Wednesday, December 2, 2015, Geneva, Switzerland
TEDx Speaker, "It's not just Africa, or Africans, that need help," TEDx Lausanne, Monday, February 10, 2014, Lausanne, Switzerland
Speaker/Performer, "Never Again," African Kaleidoscope Fourth Edition, Saturday 22 November 2014, Geneva, Switzerland
The Graduate Institute, "My Future," Speaker and Face for the Graduate Institute, 2012