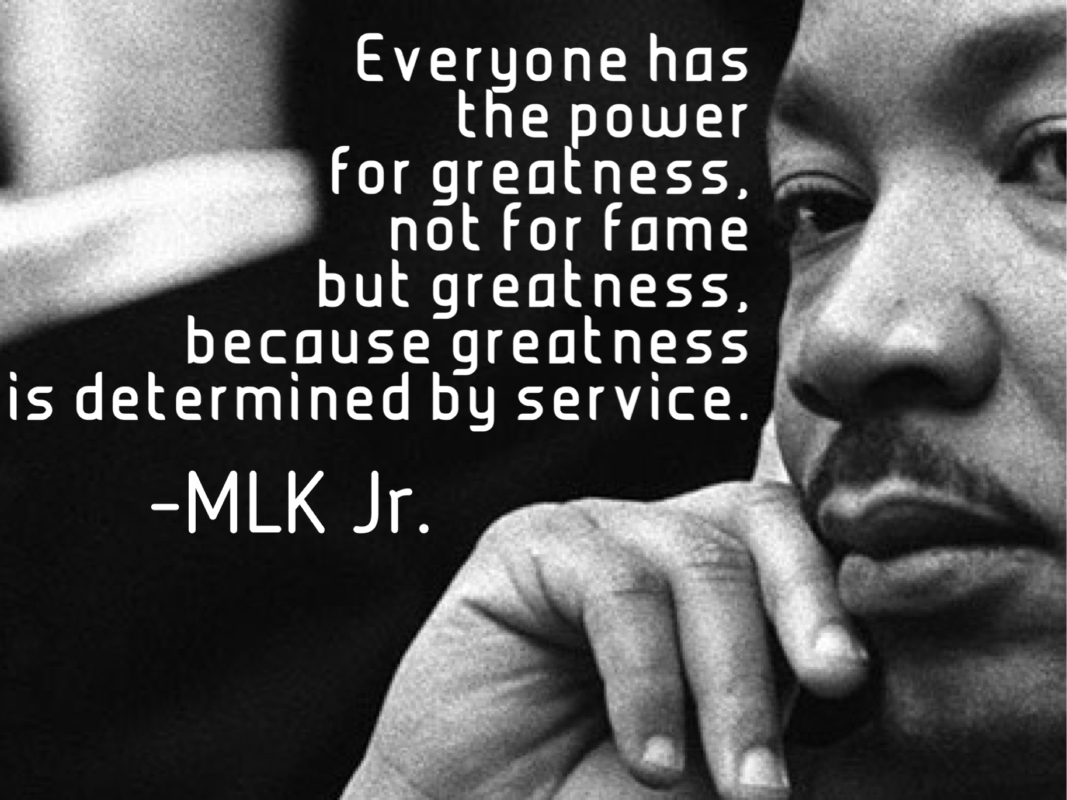 In honor of MLK Jr. day, I spent some moments reflecting on my one my absolute favorite lessons from him:
"Everyone has the power for greatness, not for fame but greatness, because greatness is determined by service."
One truth that has been deeply embedded in me since I was a little girl is that my life belongs to the service of others and to my world. I particularly came to this awakening at 16/17 years old, when I read the book Night by Elie Wiesel. In those moments, just as I finished the book, with tears streaming down my face, God spoke to me and affirmed what I had just finished reading that "our lives no longer belong to us alone; they belong to those who need us desperately." That was the first glimpse to my purpose.
Looking back, I have had many moments where my service to humanity was undoubtedly at the core of who I was and what I did, and have also had many other unfortunate moments when I found myself lost to the desire of wealth, comfort and recognition that I lost sight of what it means to humbly and obediently serve. In the midst of the hustle and bustle of life, when survival and enjoyment becomes our greatest concern, instead of humbly and obediently serving, we find ourselves trying to be seen, trying to be recognized through accolades, trying to out do others, trying to post the hottest statuses and photos, trying to compete, trying to be great by fame! In that, we wake up only to have lost a great sense of ourselves as our calling becomes a dream we can't even recognize.
But thank God for such moments which reel us back to the best of who we are. I am without a doubt so grateful for reflective moments such as this, which humble me and which allow me the opportunity to reevaluate and see if I am living up to the great calling of my life; if I am fully walking in the unfolding of my purpose. In thinking about our greatness as our service to humanity, I am reminded of the many many great people that I know, who spend each and every single day, in the service of others. These are not well known people, they are not famous people, but they so happen to be the most influential people as they daily and tirelessly address the needs of the communities around them.
In thinking about our greatness as is determined by our service, I am reminded of teachers and mentors who carry us along our whole lives and who teach out about our greatest potential, I am reminded of health workers like my mother who daily serve to defeat death and restore hope in the lives of others, I am reminded of community leaders who everyday organize meals to feed those who do not have, I am reminded of the men and women who put their lives at risk to defend our freedom, and I am reminded of all of you who open your hearts and doors to offer safety, meals, hugs, love to family and strangers are alike.
The truth is as MLK Jr. recognized it that: our greatness is in our service. As long as our lives remain a canvas of change and service to others, it doesn't matter how big or small we serve. We just need to be serving.
I hope this serves as a reminder to you, as it has to me, to live a life that is determined not by power, or by money, or by fame, but a life that is marked by our commitment through our purpose, to serve humanity with a sense of humility and integrity.
We are indeed greater when we are in the business of serving!
-Unravel Away Artist-